A few weekends ago, I grabbed my passport and headed up to Squamish for a long weekend of bouldering. Squamish is located an hour north (or 41 miles... or 60 something kilometers) of Vancouver, BC just off of the Sea-to-Sky highway on the way to Whistler. The city itself is located on the banks of the Howe Sound, and is a climbing mecca. It's prominent feature is the Chief - a large granite monolith. There are a plethora of routes (trad) up the Chief, as well a dozens of boulders strewn along its base. Nearby are a lot of other quality granite sport and trad routes. Pretty much everything you can ask for!
I try to make it up there at least twice a year. The only drawback to Squamish is the short window the weather allows you to climb. Last year, I was up in Squamish for Labor Day and got rained on. For this trip, I took a day off of work for a long weekend. I will admit - it was a lot of driving (almost 8 hours each way with border crossings) for just a day and a half of climbing. But it's an amazing place. During peak summer, Squamish is one of the few places in North America that have a bearable climate. Because of the short window and mild temps, climbers flock to this area in the 2.5 months that it's dry. This also makes it a very international place, as I meet climbers from all over the globe every time I go.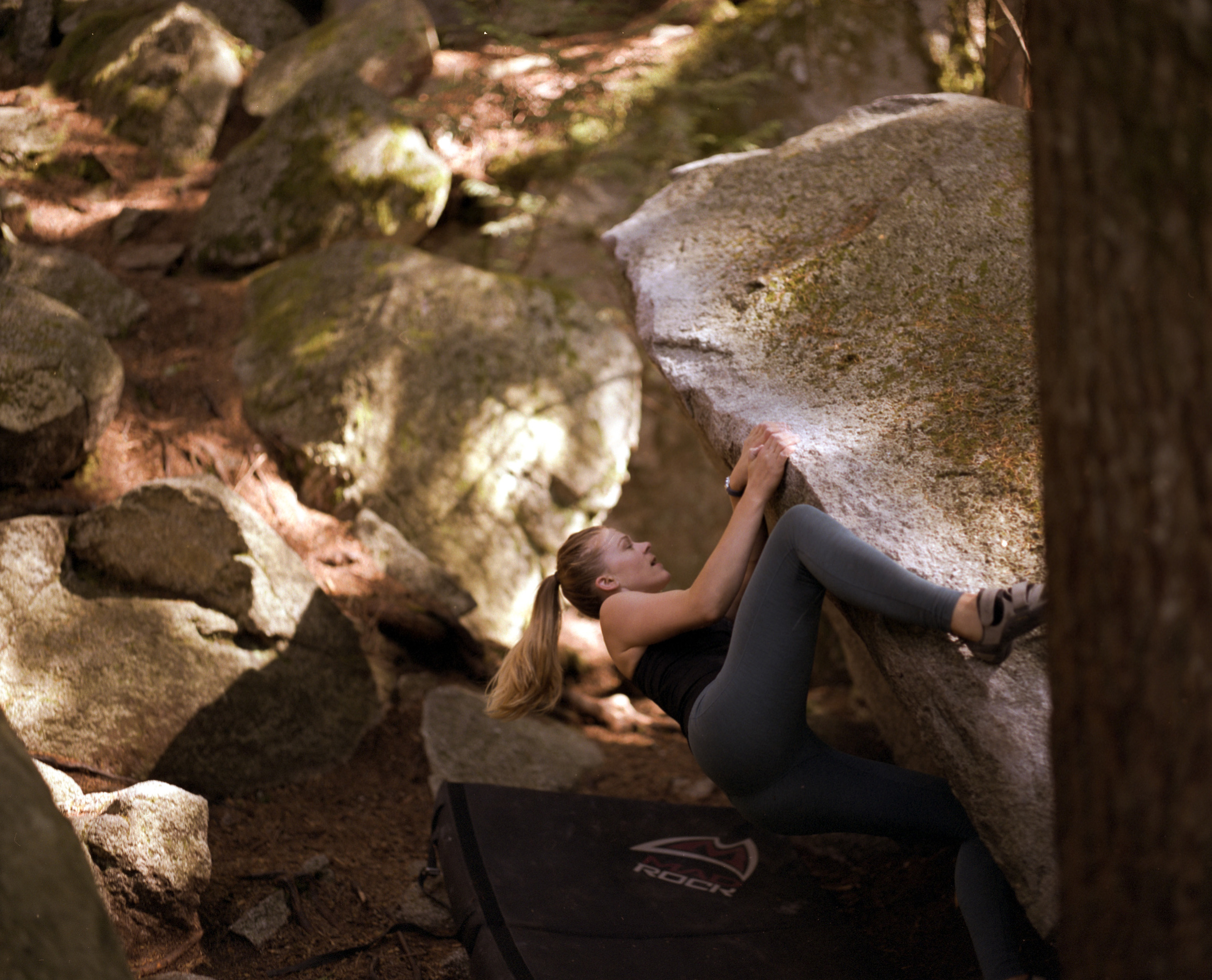 Bouldering here has only really come into the spotlight here in the last decade or so, when Chris Sharma went through and established a bunch of problems. Prior to this, roped climbing was king here and most of the large boulders were overlooked as people walked to the Chief. The rock here is classic granite, somewhat reminiscent of Yosemite. It's vastly different in structure from Leavenworth, which tends to have smaller crystals that form a sandpaper like texture. The granite in Squamish has big fat crystals. The top-outs here also tend to be kind of slopey and committing. I always say that Squamish is a bit humbling, knocking me down a grade or two that i might climb elsewhere. Though, I guess that is true of any climbing area - it takes time to learn the style and technique.
This trip, I meet up with some folks from Seattle, as well as my friend Suzie, who was backpacking through Vancouver, BC. Luckily, we missed out on the rain that was there a week before, and we were treated with a beautiful, warm weekend. I got to get on (and completed!) several routes that stumped me last year.
Coming up to Squamish also gave me an opportunity to use my "new" Pentax 6x7. It is a behemoth of a camera, weighing in at over 5 lbs with a prism, grip, and lens. It's basically the same design as a 35mm SLR, but using 120 film to capture 6x7 negatives. Perhaps I will make a another post featuring this camera. Really huge mirror, with a super satisfying shutter click and mirror slap. A monster for sure. I also took along my much neglected digital SLR to snap a few photos as well.
The first gallery was taken with the Pentax 6x7 using Fuji Pro 400H. All other pictures were taken with Canon 7D.